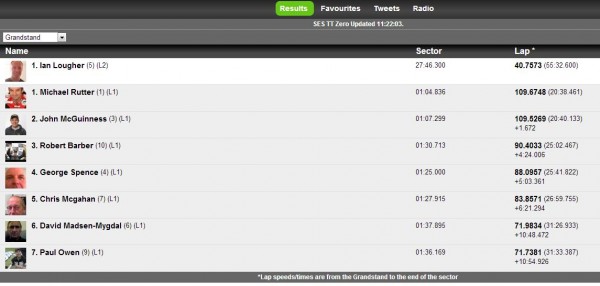 What a great run by Rutter and MotoCzysz for the win. McGuinness was over taken by Rutter at the end of the race. Barber and Buckeye Current took 3rd with an amazing effort. Mark Miller and the second MotoCzysz bike stopped early in the race. :-/
Asphalt And Rubber was quick on the draw with a good race report.
Great show. Looking forward to next year!
Rob Barber and John McGuinness had to run to the Supersport Race 2 so they could not attend the press conference. Hopefully the races will be spaced out better next year. I'm sure we will see more top riders in the TT Zero next year so they might as well plan for these guys to be able to talk to the press before the next race.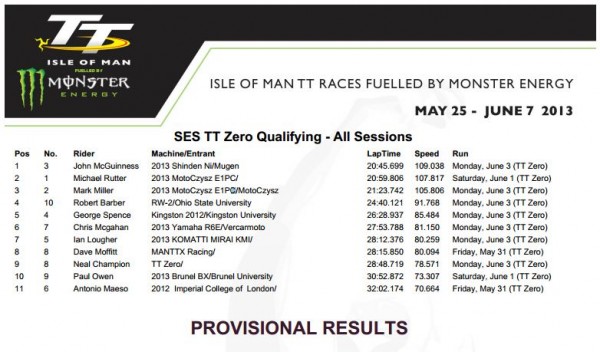 Tomorrow morning is the TT Zero at the Isle of Man TT. Above are the fastest lap times from qualifying.
Rutter, Miller and McGuinness are all faster than last years record lap time of 104.056. In McGuinness on the Mugen bike set the fastest lap around the 37+ mile mountain course shaving 1 minute over his 21:45.33 lap last year.
The TT Zero final will be run at 4:45 AM CST June 5. Be sure to get up early and watch the race. You can also catch highlights on Velocity TV if you have it.
Posted on June 4, 2013 at 8:25 am by
John Adamo
·
Permalink
·
One Comment
In:
TT Zero
· Tagged with:
2013
,
2013 TT Zero lap times
,
Isle Of Man TT
,
John McGuinness
,
lap times
,
Mark Miller
,
Michael Rutter
,
MotoCzysz
,
Mugen
,
TT Zero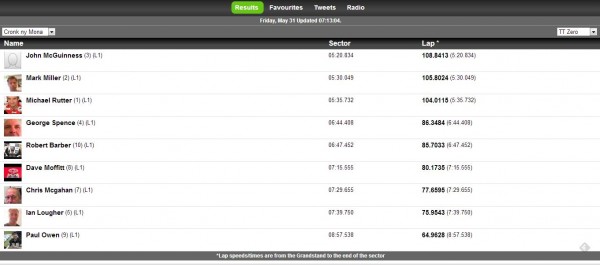 I figure the 2013 TT Zero is as good a time as any to knock the dust of PlugBike.com. I've been following the build up to this year's TT Zero as much as possible over the blogs, FB, twitter, etc. Looks like another great race is coming up and more frustration trying to watch it virtually. But that is half the fun right? :D
Anyway, I wrote about ways to watch the TT Zero in the past. Here are a few new way to watch the TT Zero this year…
1) IOMTT Race Cams – Nice real time shots of the TT Course. (thanks for link Harry)
2) Download the IOMTT app. Go to iTunes App Store and search for "Isle Of Man TT". Download the app. They also have an Android app. (Thank you google for making this linkable.)
But really, for watching as live as possible when you live in the states, nothing beats TT Live.
As always, follow the #ttzero has tag on twitter and be sure to friend Amadeus Photography on FB and twitter since Frank has been posting pics of the leccy TT since the year zero TTXGP.
Once the racing is over there will be plenty of action on the forums from eRace fans posting pics and their take. If you friend me on Facebook I will "like" anything on two wheels that runs on electric… or gas …or muscle. By following me you will find other folks doing some great work blogging and podcasting about electric.
Switching gears here, I have not seen an official TT Zero entry list for 2013. However, here are the entries this year which I took from Manufacturing Digital…
MANTTX Racing – Isle of Man
Ecotricity Kingston – London, UK
MotoCzysz – Oregon, USA (2 entries)(on Twitter)
Komatti – Mirai Racing – Isle of Man/Japan
Brunel TT Zero Race Team – London, UK
Imperial College London – London, UK
Buckeye Electric Motorcycle Race Team – Ohio State University, USA (See Rob Barber's site / blog for some updates)
Vercarmoto Racing – Italy (follow on FB)
Sarolea – Belgium
Team MUGEN – Japan/UK (on FB
Zytek Kawasaki – UK
Also, see the teams that qualified on day one of the TT Zero. Some of these teams are featured in this youtube video. Cool to see Burnel's Dr. Koen Matthys talking as he is a repeat entry in the TT Zero. Also David Craine of MANTTX reflects on how the perception of his team has changed since they started racing electric on the mountain course.
How are you "watching" the TT Zero and IOMTT? Please leave a comment and let us know. I think we should all pack up and go next year. :D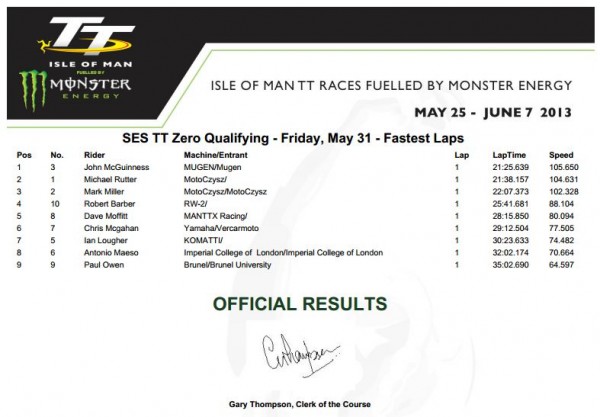 Looks like another close battle is in store for between the Mugen and MotoCzysz teams. The qualifying times show a strong improvement by Mugen and McPint over last year. Mark Miller also commented on facebook that his time has improved. Rob Barber also had a much faster lap than last year. Who knows what the strategy was today for each of the teams so we can't pick a winner yet.
It is great to see that so many teams completed the qualifying lap and the times are all strong. Congratulations to the teams on the great preparation work this year.
Does anyone know if Lightning Motors came to the Isle Of Man this year?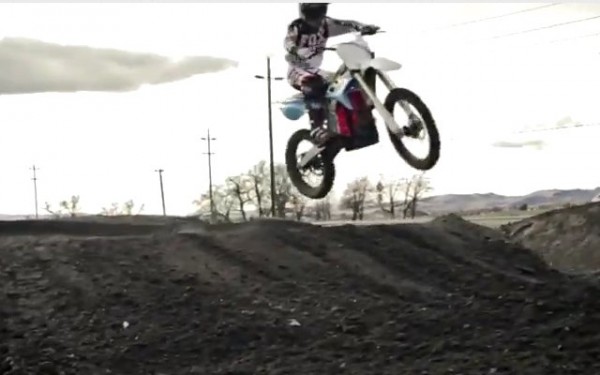 Motorcross Action Magazine posted some video footage of the BRD Motorcycles Redshift MX in the dirt. To my knowledge this is the first time we have seen the MX in action.
Motorcross Action Magazine had a nice series of interviews with vendors at the Indy Dealer Expo last weekend. Buried in the middle of the vid was an interview with Marc Fenigstein, founder of BRD Motorcycles. (see video below)
Marc explained the traits of the BRD RedShfit MX that electric bike fans already know: 50 aggressive miles of range on the road and 2 hours of aggressive riding on the trail. The MX is 250 lbs and has 40 hp at the rear wheel.
A few of the lesser known facts are BRD's approach to chassis and suspension design is to not try to reinvent it. Looking at the unique and beautiful frame construction this seems a little surprising. Also, they plan to sell the bikes street legal so customers can get the tax rebates and incentives.
Watch the video below to hear more. Jump to 12 minutes in.
Bonus cut! Here is a shorter interview from Dirt Rider:
Skip to 1 min 54 sec in.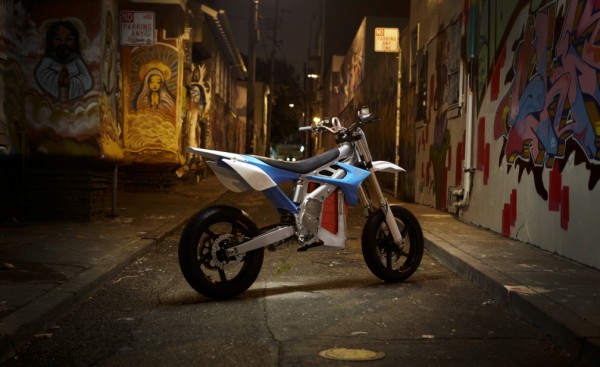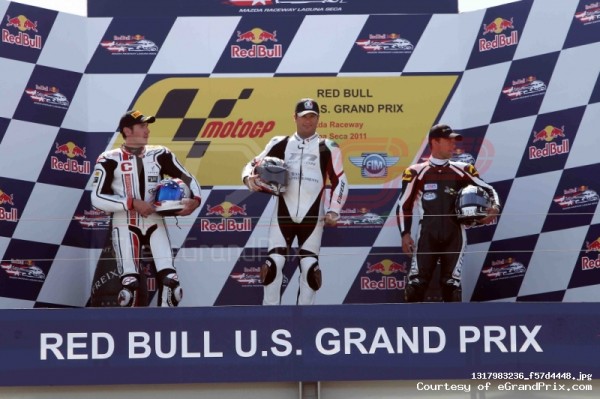 TTXGP announced the North American schedule for 2012 with a great list of venues. Electric racing kicks off at Infineon for the third year in a row and then hits PIR. Both venues are close to many EV manufacturers and enthusiasts which makes for a great atmosphere. The final at Daytona will host electric motorcycle race teams from around the world at a legendary race track. This will be the first TTXGP race at Daytona and the first TTXGP final in the USA.
If you only attend one event this year it's going to be tough to choose. See the full schedule after the break and visit www.egrandprix.com for more information.

It looks like Gas Gas is not the only manufacturer looking at Trials riders as a good market for electric motorcycles. Philippe Aresten, the president of Scorpa from 2001 to 2007, started Montpellier, France based Electric Motion and plans to bring the EM 5.7 to market.
Watching the video below of Christophe Bruand riding a skate park in Montpillier, clearing 4′ plus obstacles and trail riding on the EM 5.7, makes me want an electric trials bike more than ever. Philippe and Electric Motion are betting I'm not the only one.
The EM 5.7 rolling chassis is designed and produced by Electric Motion. The styling of the bike is by Oliver Besson. Brice Martin engineered the electric drive system which uses an electric motor developed to EM's specifications running at 48 Volts. The battery pack is built with 25 Ah of Kokam Lithium Polymer cells.
Philippe Aresten obviously is not new to the motorcycle industry but he is also not new to electric drive. He started SEV while leading Scorpa. SEV developed and sold the eTricks electric trials bike before Scorpa declared bankruptcy and was purchased by Sherco. SEV lives on but I believe the bank owns it. Not Sherco. Philippe then left to start Electric Motion, a company that he himself owns.
Read More and see the video after the break…

Last week was a great week for electric motorcycle enthusiasts. We saw an impressive stream of electrified motorcycle pictures coming from EICMA and the Honda RCE teasers. However, you had to have your eyes on the European moto blogs to pick up on the Sherco SE Electric enduro.
Now the EVOLT BULL1 may ring a bell for those watching this space for the last few years. Domenick Yoney wrote about the LiPo celled electric dirtbike back in July 2009. Well, it looks like Sherco saw them too and acquired the BULL1 technology.
It seems Sherco then worked with Evolt to develop and convert a Sherco 250 SE to electric.  This means the standard gas bike suspension and terrain stomping 21″ front and 18″ rear wheel. Oh, and unfortunately the excessive weight that comes with it.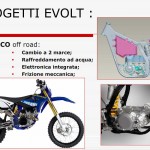 There is no word on how the bike performs but Sherco / EVOLT put together a "fully integrated" electric drive system with 8.8 kWh 2.2 kWh of Kokam LiPo cells, a 2 speed gear box with clutch to get the knobbies churning dirt while 144 Volts and liquid cooling keep the motor from burning up.
Yes, LiPo. It seems they took the light weight, less traveled route of EV battery chemistry that is  gaining popularity with ebike homebrewers for its higher energy density over the usual LiFePO4 cells.
Yes, 2 speed transmission. The bike has a hydraulic clutch and a low and high speed selection.
I did not see any details for the motor but it seems it is liquid cooled. You can see in the picture below a water pump that pushes water through a single conventional radiator and down into the motor housing. There also appears to be some sort of reduction between the clutch and the motor. Sherco claims 35 HP but I'm not sure if this is peak HP or if its rear wheel HP or what.
The end result is an electric drive system that looks similar in packaging to the KTM Freeride E.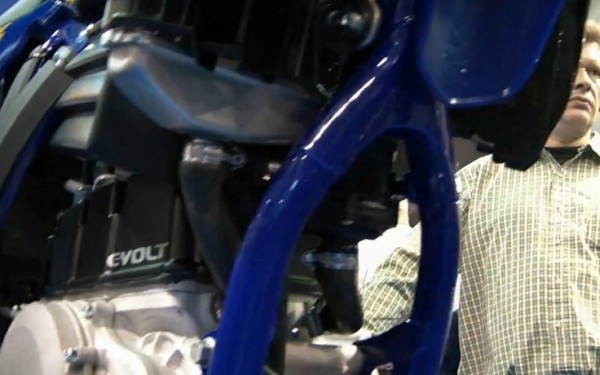 Sherco claims its electric drive system will give the ebike rider up to 40 minutes of MX riding and more for more leisurely trail riding. The total package weighs less than 220 pounds which keeps it about 6 pounds shy of a Sherco 250 SE just after fill up.
At $12,240 it's on the high end of the price spectrum. Sherco has not committed to adding this electric enduro to its product line. For now it seems they will be on the sidelines next to Honda waiting to see how this crazy electric motorcycle thing pans.
Source: Moto Station via: Moto Elettriche
Posted on November 15, 2011 at 10:30 am by
John Adamo
·
Permalink
·
Comments Closed
In:
Other Makes
· Tagged with:
BULL1
,
EICMA
,
EICMA 2011
,
Enduro
,
EVOLT
,
EVOLT BULL1
,
Sherco
,
Sherco electric enduro
,
Sherco electric motorcycle
,
Sherco SE Electric
,
transmission
,
water cooled
Until today it seemed Honda was content to dabble in commuter electrics while smaller, more nimble companies tested the waters of electric motorcycle racing and nailed down the market for electric two wheelers.
Then this morning the Honda RC-E hit the net. A beautiful retro race bike inspired body sits over a massive frame, motor and swingarm. Honda will not spill the beans on the specs until the 2011 Tokyo Motorshow next month. We can only guess if Honda designed this ebike's electric drivetrain in house or if they got some help from an EV drive design crew like Mission Motors. Mission has worked with Honda on a CR-Z hybrid electric race car and they have several clients they are working with behind the curtains.
For now this is all Honda has to say about the RC-E…
An EV version of a super sports bike that pursues the joy of riding. A powerful and smooth ride unique to an EV model is achieved with the 250cc-class compact body.
Man that RC-E looks good. I hope we see it on the track in the next few years. Hey, they did put a license plate on the back. Let's hope we see it plugged in at the local coffee shop.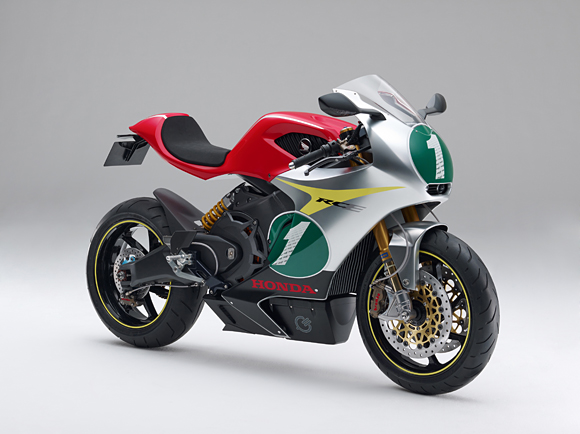 Honda also unveiled some cool commuter electric prototypes. I might post about them later. I don't want to look at them too much since Honda will probably leave them unchanged for a decade plus if they build them.